5 Halloween-Themed Movies & Cocktail Pairings
By Mary Small Published September 2020
It's safe to say most of us will be spending Halloween in the comfort of our homes this year, so a movie marathon is naturally in order. 2020 has been frightening enough, but not in a fun way. It may be witchful thinking, but let's all take a break and enjoy some scary thrills. The trick is agreeing with your gang on a movie to watch, and the treat is the cocktails we have to pair with it! Whether you'll be watching a family-friendly flick or a hauntingly good horror film- we've got a cocktail to keep you company.
A Classic
Beep Beep, Richie! Yes, technically we are talking about the mini-series "IT" with Tim Curry infamously playing Pennywise, but even if you throw on the newer movies (IT Chapter One and IT Chapter Two), you are still in for one scary Derry night. Don't worry, you'll be fine as long as you stay away from storm drains, paper boats and red balloons. Gather your Loser's Club and make these spiked root beer floats. After all, we all float down here, too.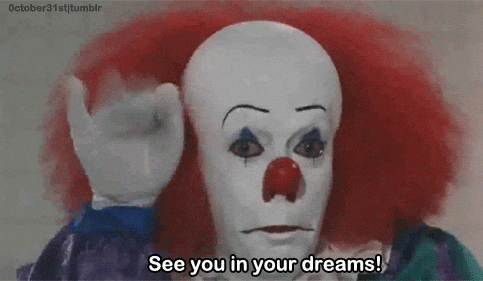 2 scoops vanilla bean ice cream

1½ ounces spiced rum

Root beer
In a mason jar, pour the spiced rum and add ice cream. Top off with root beer and enjoy with a spoon and a straw.
A Fan Favorite
When someone says "Michael Myers," do you think Saturday Night Live or do you think late 70's epic slasher movie? If your answer is the latter, you will want a big pitcher of Dead Margaritas, but let's avoid calling a babysitter. That didn't work out so well for Jamie Lee Curtis. This recipe won't make enough for a whole marathon of all 13 Halloween movies, but it will at least get you through the first five. Or you can stick to the original and make a batch for your buds, we know you don't want to watch this frightening flick solo.
(Recipe serves 6-8 people)
Combine mezcal, lime juice and agave in a bowl. Mix and pour into individual glasses over crushed ice. Top with soda water and a lime wheel.
A Not-So-Scary
Movie: Hocus Pocus
Cocktail Pairing: Spiced Apple Cider
If you are the type that starts planning your Halloween costumes in March, then you probably have the start of 31 Nights of Halloween (formerly 13 Nights of Halloween) set as a reminder in your phone. The big lineup typically concludes with an all-day marathon of Hocus Pocus on repeat. This is the perfect occasion to mix up a Spiced Apple Cider with your best witches. If you are an honorary Sanderson sister, raise your cocktail hand. Hey, if the broom fits, fly it. After all, there is a full moon this Halloween! Even though rumors of a Hocus Pocus 2 Disney+ release has gotten us all a bit excited, it seems we will have to wait until 2021 before we see the Salem three return.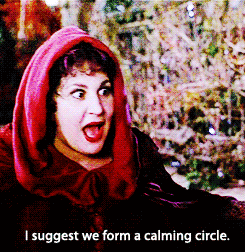 Combine ingredients in a glass and stir gently. Garnish with freshly grated cinnamon and allspice.
A Comedy
Movie: A Haunted House
Cocktail Pairing: The Petrified Pear
Did Paranormal Activity leave you feeling possessed? Yeah, us too. This movie is a comedic cure that pairs perfectly with a cocktail – The Petrified Pear to be precise. A Haunted House is a spoof of Paranormal Activity, made in the classic Wayans Brother's style. Be warned, this comedy is not for kids. But then again, neither are cocktails, so have a fun adult night of it! You could say this pear-anormal will really lift your spirits.
(Recipe serves 6-8 people)
Combine bourbon, pear nectar, lemon juice and simple syrup into a punch bowl and stir. Top with ginger beer and ginger ale. Pour cocktail over crushed ice in a glass with a cinnamon stick.
A Witching Watch
Movie: Practical Magic
Cocktail Pairing: Gravedigger
If you enjoy more Hallmark than horror, this pairing is for you. We've traded in the Owens sisters' "midnight margaritas" for a gravely gratifying treat. If you grew up in the '90s, you have probably seen Practical Magic more times than you can count on your hands and toes. It's a Bullock-Kidman classic about two love-cursed sisters who grew up practicing witchcraft and must deal with their doomed destinies. The Gravedigger cocktail recipe is on the sweeter side, which is why it pairs practically with a witchy rom-com. Enjoy with a gang of your best ghoul-friends.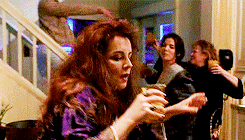 Shake and serve on the rocks.