8 Wines for 8 Nights of Hanukkah
By Peyton Whittington Originally published November 2020, updated December 2022
Adam Sandler said it best, "Hanukkah is The Festival of Lights. Instead of one day of presents, we have eight crazzzzzzzzy nights!"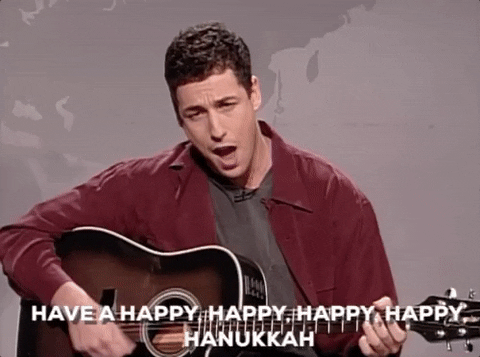 The Hanukkah story says the tiniest bit of oil lasted the Jewish people eight days and eight nights, despite only being enough for one. This was a miraculous event in Jewish history, but we know it would take an even bigger miracle to make one bottle of wine last that long.
As a solution, we have come up with eight wine selections for all eight nights of Hanukkah. Recommended by ABC wine expert Dan Eddy, these options feature varietals from around the world that are sure to light up your holiday spirits. We've also included a collection of Kosher and Kosher for Passover wines that can be enjoyed any time.
This year, the holiday begins the evening of December 18th and continues until sunset on December 26th. As you add a new candle each night, treat yourself to a different bottle of wine.
If you're looking to gift a Jewish friend a bottle of wine for Hanukkah, you may be wondering, "What is Kosher wine?"
Kosher wines go through the same process as non-Kosher options, but have a few qualifying details. A Rabbi must be involved and supervise the wine production process and only a Sabbath-observant Jewish individual may handle the wine.
Wine that is labeled as "Kosher for Passover" goes a step further in its requirements - there can be no yeast that comes from grain or bread in the wine. Kosher for Passover wines utilize yeast that comes from fruit or sugar. Dan Eddy explains, "It will always say on the back of a bottle, 'Kosher for Passover,' or it will have a symbol of a small 'K' or 'U' with a 'P' next to it."
In addition, you may notice the word Mevushal on a bottle of Kosher wine. This is a transliterated word from Hebrew that literally means "cooked." The wine itself is not cooked, but the label acknowledges a quick, flash pasteurization of the wine that helps maintain the Kosher status while being handled by a non-Jewish person.
Before you start spinning the dreidel, dreidel, dreidel, uncork a bottle of Barkan Classic Cabernet Sauvignon. This Kosher red wine is made with grapes grown from ancient vineyard sites in the Upper Galilee region and Jerusalem mountains in Israel. It is registered as all levels of Kosher, including Kosher for Passover, meaning it can be enjoyed year-round by those who observe. This bottle is styled like a French cabernet sauvignon with typical black currant and blackberry aromas on the nose. These notes become pomegranate tartness on the palate with an oaky finish to provide balance and richness to the wine.
Dan Eddy believes every celebration should include some bubbly. So, why not celebrate The Hanukkah with a Kosher moscato? Like all Moscato d'Asti's, this sweet wine is light with a hint of bubbles and features a delightful palate of pear, tangerine, nectarine and melon flavors. It has a lovely perfumed nose of jasmine, honeysuckle and citrus blossom, making this a perfect dessert wine. Drink it on its own or pair it with fruit-based desserts like the Hanukkah staple, sufganiyot (jelly-filled donuts).
These wines are for the Festival of Lights, after all, so a light and refreshing wine is a great fit for the holiday. Our next recommendation is the delicious Cooper Hill Pinot Gris. This Oregon wine is completely organic with light acidity. It provides orchard fruit flavors like pear and apple on the nose and leaves a soft, smooth finish. The flavor is enough to enjoy on its own, but it also pairs wonderfully with light appetizers or fish. It's the perfect excuse to whip out the bagels and lox with a smear of cream cheese.
Baron Herzog has been America's best-known Kosher wine distributor for 30 years. The history of Herzog winemaking has spanned over nine generations and arrived in the United States from Eastern Europe during the 1940s. These are excellent options for those wishing to maintain their Kosher diet, as they are also Kosher for Passover and blessed to honor the Jewish heritage. Their chardonnay delivers notes of tropical fruit, citrus and apple. It is dry with a hint of vanilla on the finish, adding just a touch of sweetness.
If your home is filled with the mouth-watering scent of latkes, pop open a bottle of pinot noir to enjoy alongside the potato pancakes. Planet Oregon Pinot Noir from the Willamette Valley in Oregon is not only an incredible value but has also received three consecutive 90-point scores from Vinous for the last three released vintages. This organic red wine is dry with ripe cherry notes that shift into hints of earth and rhubarb. You'll notice a finish with lightly floral notes of violet as you enjoy this wine from the Soter Vineyards.
We're halfway through the week, and this next pick (also from Baron Herzog) is the perfect pour to get you through the mid-week slump. Like most California zinfandels, this Kosher version is fruit forward with ripe blackberry and juicy black cherry notes. Softer tannins make it great to pair with anything from barbecue to lighter fare, like assorted cheeses, chicken or even vegetarian meals.
With a 90-point score from Wine Enthusiast, this broadly appealing Washington syrah is a no-brainer. Aromas of brambly red fruit give way to a floral finish that's sure to pair well with your sugar-dusted, jam-filled sufganiyot. However, this wine's well-structured tannins that still give a velvety finish allow it to pair famously with almost anything.
"Dolce" means soft or sweet, and this fully sparkling Kosher for Passover wine is a sweet way to bid your celebrations farewell. It has plenty of floral perfume on the nose and a soft palate with just enough residual sugar to make it a treat at the beginning or end of any meal. As a full "Spumante," it will provide that pleasant pop to really finish out your holiday week in style.
Santa may not bring over the Hanukkah presents, but ABC sure does. Order any of these wines from abcfws.com, select your local store and pick them up in-store or through curbside.
Pricing, selection and vintages may vary by location.